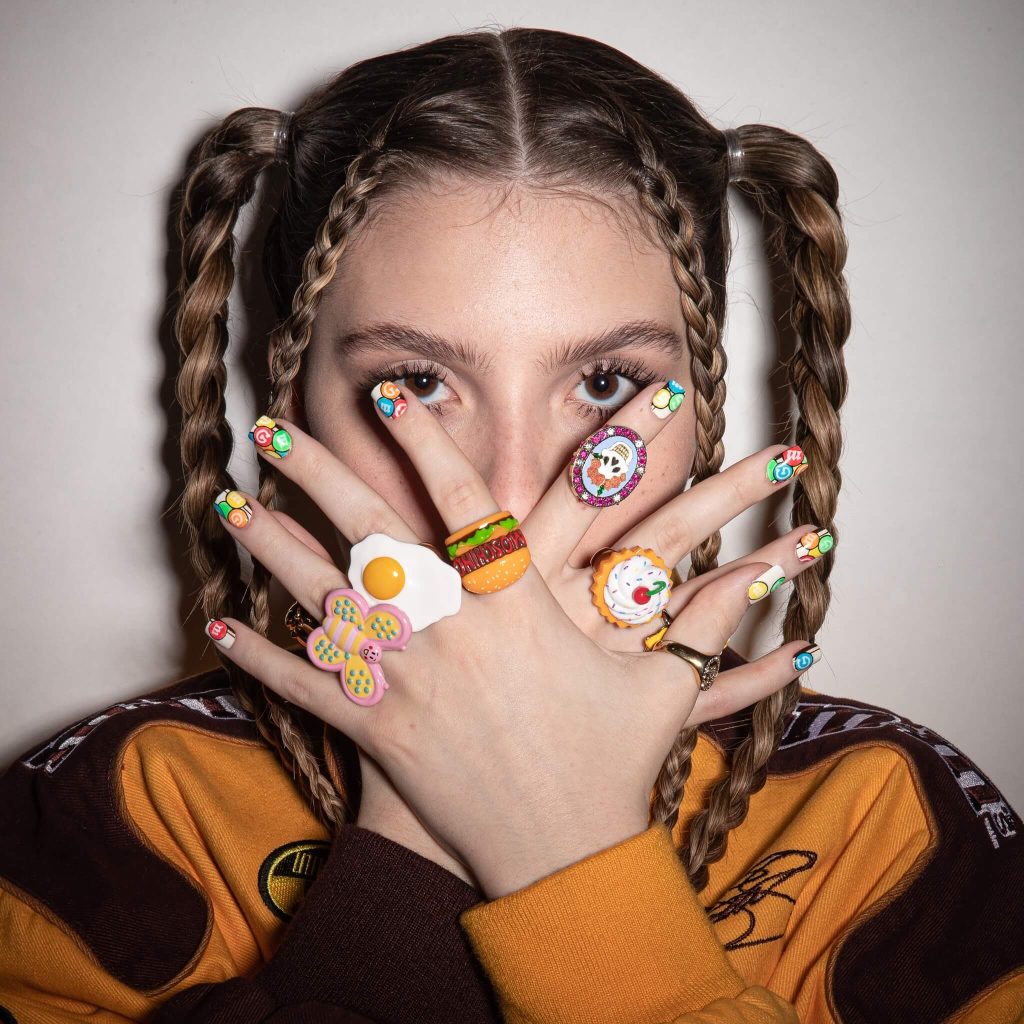 It's a sparkling discography that has enjoyed viral success and famous fans in the form of Mick Jagger, captivated thanks to an undeniable penchant for unflinching lyrics and a raw ability to convey the joy and pain of the human experience in the modern age. 
"I think there's a lot of power in vulnerability," explains Grace Gaustad, the talented troubadour enjoying the upwards trajectory of a unique career built on exposed emotion. "You don't think that sharing your struggles represents strength, but after divulging my own experiences through music I've learned that everyone goes through the exact same thing."
Known for a string of passionate covers (including a heartfelt rendition of Hozier's "Take Me To Church" which took the internet by storm, garnering 25 million views and counting), and the trailblazing success of Grace's self-released BLKBX: wht r u hding? (complete with powerful tracks ranging from "Jupiter" to "Hero," the latter the title song for the Netflix film Rescued by Ruby), Gaustad has successfully carved a niche with a singular perspective that has garnered a global fan base built on a foundation of inclusivity and acceptance.  It's a knack for holding up a relatable musical mirror that listeners can gaze into and feel seen, which Grace continues on their upcoming sophomore album, PILLBX: whts ur fantasy?.
The 20 year-old has been steadily refining their craft since Grace began singing and writing at the tender age of five, with their eloquence about a tumultuous youth yielding a rich point-of-view that continues to influence Grace's artistic output into adulthood. "I think that artists have to draw on those dark times," Gaustad explains, noting that BLKBX was inspired by Grace's life up to age 18, right down to identical reenactments. "When one can go through and share all of the memories and experiences you'd otherwise like to forget, it can make you feel less alone." 
It's a quest that includes songs focusing on topics ranging from anxiety to trauma, sexuality and depression. That includes the stand-out LGBTQ anthem "Red," a romantic rumination on coming to terms with one's identity. "The proudest facet of my career were the thousands of messages from young kids and young adults who said it helped them come to terms with their own sexuality," Grace points out. Emphasizing Grace's commitment to the cause, Gaustad's complementary venture BLKBX Project offers free mental health services to fans. "My goal from the beginning is to bring people together and to give those who have been marginalized a safe space."
Whereas BLKBX looked inward while chronicling a personal journey, PILLBX zooms out on a fantasy world with Gaustad traveling through the adventures of Grace's own imagination. "When you can't change the unchangeable, what do you do?" is the question Grace poses on the 13 track-album which Gaustad wrote and recorded from Grace's Los Angeles home with close collaborator and BLKBX producer Scott Effman, along with corresponding music videos courtesy of the director Van Alpert. "I feel like I wrote it with my eyes closed," Grace recalls. "It was a really crazy experience since so much of it lives within that dream realm."
It's a dream that Gaustad is actively living out, with Billboard declaring in 2021 "there aren't too many 19 year-olds with the vocal firmness of Grace Gaustad" and mentors that include Mariska Hargitay, the actress who starred in Grace's video for the trauma-healing track "93 Days." 
"Although a lot of the things I went through were challenging at the time, I can stand here and say I'm incredibly grateful for any little hardship as they all gave me something to sing about, write about and stand up for," Gaustad proudly states.  "One of the most passionate things a human being can do is take pain and turn it into something beautiful."